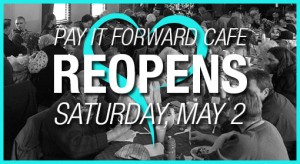 After a long, cold winter break, we are warmed up and ready to go for the reopening of Pay It Forward Cafe! On Saturday, May 2nd, at 12:00 PM, the doors will be open at New Life Fellowship on 5994 Ridge Road (next to Golubski Funeral Home). We will, once again, be serving hot meals and offering resources on a weekly basis to those who may be dealing with a food-security situation or who may simply be lacking a healthy connection to others in the community.
Pay It Forward Cafe has proven over the years to be an effective and non-threatening way of connecting with and caring for local residents who are struggling either physically, emotionally, or spiritually. Through practical servitude and building relationship, we demonstrate the love of Christ to those in need.
Meals at the cafe are offered free of charge, with absolutely no strings attached.
For more information about Pay It Forward Cafe, click here.