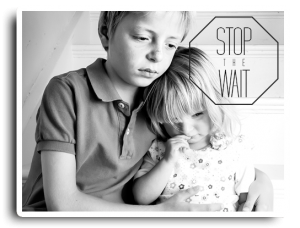 In 2014, Community Ambassadors launched Stop The Wait, a grass-roots initiative dedicated to the general cause of connecting local families with local waiting orphans in Cuyahoga County. We accomplish this mission through the following four efforts:
BUILD – To build awareness of the current foster and adoptive care crisis in Cuyahoga County.
EDUCATE – To educate on the process of becoming a foster or adoptive parent.
PROVIDE – To provide area churches and organizations tools that will help to build awareness among their constituents.
CONNECT – To connect prospective foster or adoptive parents to resources and local supports.
The Stop The Wait initiative has its own website here: www.StopTheWait.com
If you or your organization would like to participate or collaborate with this initiative in any way, please contact us by email at [email protected] or by phone at 216-200-7030.
Steps to Becoming a Foster/Adoptive Parent
Have you ever considered fostering or adopting a child, but didn't know where to begin? Click below to learn how you can become a foster or adoptive parent to a local child in need. Your first step may be closer than you think.
Read More
UPCOMING FOSTER/ADOPTION EVENTS
Meet the Piper Patch
Local couple adopts Shawn and Logan, two brothers who needed a forever home. May their story inspire others.
Want more info about Stop The Wait?